Swatch Group upbeat on 2011 despite strong franc
Jan 19 - Swatch Group, the world's largest watchmaker, expects another record year in 2011 as buoyant demand for its timepieces and price increases should help it offset the soaring Swiss franc.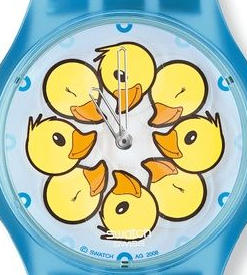 Limited edition Swatch watch
Swatch Group
, best known for its colorful Swatch watches, has already seen double-digit sales growth so far this year in local currencies.
Chief Executive
Nick Hayek
sees more growth in 2011 but exchange rate fluctuations made it hard to predict how big the gains would be, he told Reuters in an interview.
"Because of the Swiss franc we cannot tell you if it will be a double-digit growth throughout the whole year in Swiss francs also or if it will be a single-digit growth, but there will be growth," Hayek said.
At 1257 GMT, Swatch's shares were trading 3.2 percent lower, giving up earlier gains, which made them one of the biggest fallers in the FTSE Eurofirst 300 index.
Traders said investors were booking profits after the shares had risen nearly 60 percent last year.
Rival
Richemont
's shares were down 3.2 percent, while the European sector index was down 1.7 percent.
Demand for luxury watches from consumers in Asia, Central Europe and the Middle East helped Swatch Group notch up sales of 6.4 billion francs in 2010, making it another record year.
"The group's top-line growth has again exceeded our expectations, and even more so, market consensus," Helvea analyst Alessandro Migliorini said.
"The group continues to grow at an excellent pace, and although currencies are a headache, they do not represent an insurmountable problem," Migliorini said.
China's appetite for expensive watches has helped the luxury watch industry to recover quickly from its worst slump in decades. Other luxury groups, such as Richemont, Tiffany and Burberry have also seen strong sales.
BROAD-BASED DEMAND
Hayek said the group had seen very strong demand in European countries, such as France, Germany, Britain and Switzerland as well as in the United States, where its Swatch and
Omega
brands had proven particularly popular. But he said Asia was still the strongest growth driver.
Swatch Group is now looking to boost capacity to deal with its backlog issues, Hayek said, adding that there are now waiting lists for Omega's Ladymatic watch.
"We produce as much as we can. We cannot cope with this demand immediately," Hayek said. "We have to move quickly. Because of the backlog we were not able to build up stocks before Christmas."
STRONG FRANC
Swatch Group, which released its full-year sales figures unexpectedly on Wednesday, said it also sees a rise in net income and profitability compared to 2009. It is due to post full-year results in February.
The appreciation in the Swiss franc shaved off 3 percentage points on sales growth.
The company, which also owns higher-end brands such as
Breguet
,
Blancpain
and Omega, will increase prices and improve its manufacturing processes to combat the strong franc and higher gold prices, Hayek said.
Jewelers and watchmakers
Cartier
,
Montblanc
and
Audemars Piguet
have also signaled they are preparing for price increases this year.
"We will certainly adapt prices for certain brands. We have to do it," Hayek said, adding it was easier to raise prices for watches in the more expensive price categories.
Prices will go up first in Europe and the United States, starting with the brands in the price ranges from
Longines
upwards, Hayek said.
Hayek said Swatch Group's priority remained gaining more market share rather than short-term profits.
By Katie Reid and Silke Koltrowitz
(Editing by Jane Merriman)
© Thomson Reuters 2022 All rights reserved.