Skechers Q1 profit misses estimates
April 27 - Skechers USA Inc posted a smaller quarterly profit that fell short of estimates as demand for the once-hot toning shoes have gone down, and the company discounted more to clear out excess intentory.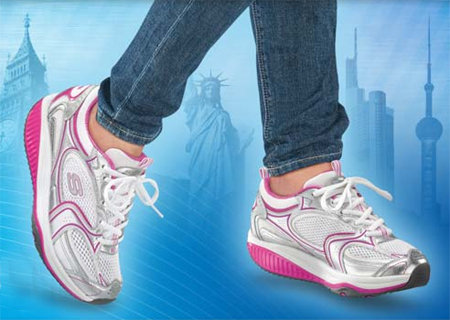 Skechers toning shoes
For the first quarter, the company earned $11.8 million, or 24 cents a share, compared with $56.3 million, or $1.15 a share last year.
Sales fell 3 percent to $476.2 million.
Analysts on average were expecting the company to earn 30 cents a share, on revenue of $465.2 million.
Inventory increased by about $187 million since first quarter 2010, but decreased by $22 million since year-end 2010, the company said.
Sales growth of toning shoes -- thick, round-soled athletic shoes that claim to exercise leg and buttock muscles by forcing the wearer to work harder while walking -- are slowing as new entrants to the more than $1 billion market cause inventory pile-ups and push down prices.
However, Skechers expects sales and margins to improve in the second half of the year as it clears old inventory and introduces new styles.
Skechers shares closed at $20.57 on the New York Stock Exchange on Wednesday.

(Reporting by Nivedita Bhattacharjee in Bangalore)
© Thomson Reuters 2022 All rights reserved.