Safilo FY net falls as demand slows, costs weigh
By Marie-Louise Gumuchian
MILAN, Feb 12 (Reuters) - Eyewear maker Safilo (SFLG.MI) said on Thursday that its net profit fell 71.3 percent last year as demand for its high-end glasses and sunglasses slowed and high production costs in Italy also weighed.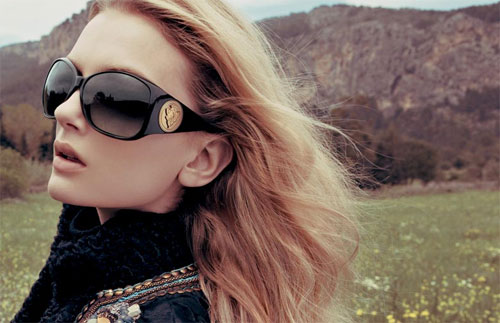 Gucci fall-winter 2008/2009
Safilo, which makes eyewear for such designers as
Gucci
and
Dior
, said in a statement that revenue fell 3.6 percent year-on-year to 1.148 billion euros ($1.5 billion).
Sales, at constant exchange rates, were in line with 2007, boosted by acquisitions in Mexico and Australia, the company said.
The luxury sector has been hit by disappointing sales and more evidence of restrained spending, even among the super rich.
"2008 has been a year of profound change and a turning point for the eyewear sector which has experienced the first slowdown after years of continued growth," Chairman Vittorio Tabacchi said in the statement.
"The areas of our business most hit by the slowdown in demand and which have been downsized in terms of value and frequency of purchase have, without doubt, been high end products and sunglasses in particular."
Net profit reached 14.6 million euros. The figure excluded an extraordinary provision for deferred taxes, estimated at 35 million euros to 40 million euros.
"(The fall in profitability) ... resulted mostly from the impossibility, in the short term, to significantly scale down the Made in Italy industrial costs and, from a general point of view, the numerous fixed costs in a situation of reduced production volumes," Safilo said.
The company said in a slide presentation to analysts that on current trading, the prescription frames business was resilient, especially in the United States and Europe, while the sunglass market remained tough.
Executives on a conference call said capital expenditure this year would be 40 million to 45 million euros and that management's priority was to reduce debt.
Safilo's net financial position reached 570 million euros in 2008, up from 514.6 million euros at the end of 2007, but in line with the value registered at the end of September.
Safilo's main shareholder, Only 3T, said last month it was talking to potential partners on ways to strengthen and develop the company. Safilo has a market cap of 187 million euros.
Rival Luxottica (LUX.MI) also has been hit by a slowdown in demand. Last week it said it expects a 16 percent fall in 2008 net profit to about 400 million euros.
Safilo shares closed down 2.2 percent at 0.655 euros, before the statement was released. (Additional reporting by Cristina Carlevaro; editing by Karen Foster)
© Thomson Reuters 2023 All rights reserved.