Macy's beefs up websites to draw foreign shoppers
June 27 - Macy's wants to make it easier for the foreign tourists who visit its namesake chain and Bloomingdale's stores to keep shopping once they go home.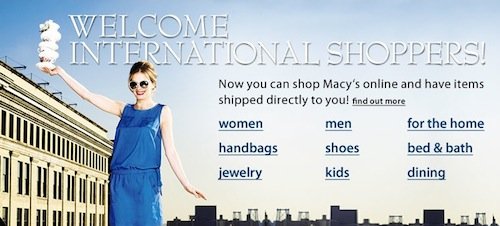 macys.com
The U.S. retailer next week will begin letting people in foreign countries who visit its macys.com and bloomingdales.com websites shop online and have the items shipped to them.
Foreign shoppers paid 36 million visits to macys.com in 2010, or about 8 percent of the total number of visits, and the chain wants that interest to translate into more online sales.
"When we looked at all the international business in our stores, we asked 'How can we use this (technology) to add to it?'" Kent Anderson, president of macys.com, told Reuters.
Macy's has been testing the international shopping function for three weeks in Australia, Canada and Britain, and on Monday will formally launch and expand that to another 88 countries, including Brazil, China and European Union members.
Macy's, which operates about 810 namesake stores and 45 Bloomingdale's in the United States, is using the technology of FiftyOne, a New York-based, venture-capital backed company.
FiftyOne detects an online shopper's country of residence, then converts U.S. dollar prices into the local currency and figures out sales taxes and customs duties. FiftyOne also handles customs paperwork.
The complexity of dealing with export logistics and customs rules has long been an impediment to U.S. retailers serving customers abroad.
FiftyOne, whose clients include Saks Inc and Nordstrom Inc, said foreign shoppers have been frustrated by the weak offerings of their local retailers' websites.
"People love to buy U.S. brands -- what consumers like is access to products they can't get at home as well as the wider selection in the United States," FiftyOne Chief Executive Michael DeSimone told Reuters.
Macy's and other department store chains such as J.C. Penney Co Inc and Kohl's Corp are fighting to build online sales as they compete with online-only retailer Amazon.com Inc.
Macy's Internet sales rose 28.7 percent in fiscal 2010 and have grown quickly this year, but account for a small share of total revenue.
E-commerce accounts for some 10 percent of U.S. retail sales, according to various industry studies. Goldman Sachs previously has estimated Macy's online sales at about 6.5 percent of total sales.
Most items for sale on macys.com will be available to international shoppers, with exceptions such as furniture, cosmetics and some exclusive clothing lines if a deal prohibits their sale abroad.
Macy's has no plans to set up local websites abroad, for example a macys.fr for France, or to translate its site into other languages.
It will use the visitor centers at its most popular stores, such as the flagship location in Manhattan's Herald Square, to promote the website's international shipping, Anderson said.
(Reporting by Phil Wahba. Editing by Robert MacMillan)
© Thomson Reuters 2022 All rights reserved.