Levi Strauss swings to loss on currency, soft sales
SAN FRANCISCO, July 14 (Reuters) - Levi Strauss & Co [LEVST.UL], maker of Levi's jeans and Docker's khakis, swung into the red in the second quarter as currency fluctuations and soft global sales took a toll on the bottom line.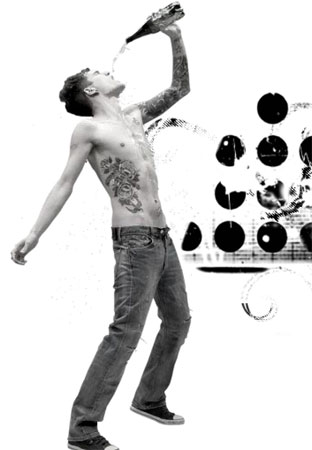 Levi's 501 "Lived In" look
But the maker of the iconic 501 jeans brand said a group of outlet stores recently bought back from a former licensee would bolster profit. And on Tuesday 14 July, it unveiled a "superpremium" global division for goods in the $150 to $200 range that it hopes will help it tap new markets.
Levi Strauss' net loss was $4.1 million from a $701,000 profit a year earlier, the San Francisco-based company said.
Net revenue slipped 3 percent to $904.5 million from $936.3 million, despite an 8 percent rise in the crucial Americas region.
The Americas region benefited from comparison to a poor year-ago result, when Levi Strauss experienced a loss in sales due to shipping problems stemming from the roll-out of a business support system.
Levi Strauss does not break out U.S. sales, but newly-appointed Chief Financial Officer Blake Jorgensen, the former CFO at Web company Yahoo Inc (YHOO.O), told Reuters the domestic market was "a bright spot in our marketplace."
Chief Executive John Anderson told analysts the market shouldn't "read anything" into the hiring of Jorgensen, responding to speculation that his migration might reveal a desire by the company to go public.
The company has moved some production closer to the United States to be able to respond more quickly to demand. More youth apparel -- which typically means shorter fashion cycles -- was now being produced in Mexico, said Robert Hanson, president of the Americas division.
"We believe we've got the right sourcing strategy in place to respond to demand as it comes," said Hanson.
Revenue fell 17 percent in Europe and 13 percent in the Asia Pacific region, hurt by slow wholesale sales particularly in Japan. When accounting for currency fluctuations, Europe saw a 1 percent rise, while Asian revenue fell 6 percent.
"Mature markets in Asia-Pacific, particularly Japan, continued to struggle with very weak retail conditions. And we saw the effect of the slow economy spreading in our developed markets throughout the region," said Anderson.
Female Japanese shoppers are gravitating to fast-fashion offerings, which are more cheaply produced and carry lower pricetags, he said. The sudden shift came as a surprise, Anderson said, adding that the company will monitor the trend to see how sustainable it is.
To combat sluggish retail conditions, Levi Strauss has been reducing inventory and cutting costs -- its selling, general and administrative costs fell 7 percent in the quarter.
Levi Strauss, a major supplier to department stores and mass-market retailers, has seen its sales soften like many other apparel makers as chains have reduced orders due to tight spending by consumers.
Moreover, bankruptcies have hammered many of the company's retail customers, including Goody's to Mervyns, hurting Levi Strauss' results.
But Hanson said he did not anticipate any more bankruptcies on the magnitude of Mervyn's and Goody's.
Offsetting the challenges in wholesale sales has been a Levi Strauss' global store expansion program. The company now has 323 company-operated stores globally, whose sales have boosted results.
On Monday 13 July, Levi Strauss said it had completed the purchase of 73 outlet stores carrying its Levi's and Docker's brands earlier licensed to Anchor Blue Retail Group, which filed for bankruptcy in May. It paid $72 million for the stores.
Anderson described Levi XX, the company's new superpremium group, as a "growth opportunity.
Making the unit global, as opposed to regional, would help in marketing efforts, he said. The product will be carried in select boutiques and company stores around the world.
San Francisco-based Levi Strauss is a private company, but discloses results due to its publicly-held debt. Net debt fell 11 percent to $1.6 billion in the quarter. (Reporting by Alexandria Sage; editing by Andre Grenon and Tim Dobbyn)
© Thomson Reuters 2022 All rights reserved.