Hermes family talks LVMH tactics
Published
today
Dec 5, 2010
PARIS | Sat Dec 4, 2010 - The family shareholders of Hermes are meeting on Friday to discuss how to defend the luxury bag maker against a takeover by rival LVMH, sources familiar with the matter said.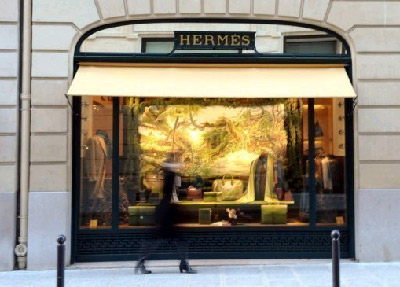 Photo : AFP
LVMH, led by billionaire businessman
Bernard Arnault
, rattled Hermes in October when it revealed a surprise 17.1 percent stake in its smaller rival, later saying it wanted to buy more shares.
The family shareholders, who number around 60 and together hold about 73.4 percent of the stock, have said they consider Arnault's move unwelcome and have called for him to withdraw.
Options for a defence could include the creation of an unlisted holding company for the family shareholding and shareholder pacts, or a mixture of the two, a person familiar with the matter told Reuters.
"Several schemes are being studied at a meeting which is taking place today," a source familiar with the matter said.
Hermes declined to comment on the family shareholders' plans.
"In light of the limited partnership structure and the weight of family shareholders in the capital -- largely sufficient to accommodate a few cracks in the family's cohesion -- the probability of a change in the group's control remains at this stage extremely limited if not non-existent," a Paris-based trader said.
If the family creates a holding company, it might have to ask France's stock market regulator for a special exemption from rules that would force it to make a public takeover offer for the whole company, which currently has a market cap of about 17.5 billion euros.
The threshold in such cases is 33 percent ownership.
But French minority shareholder association
Adam
warned this week that it would demand that the family make a full offer.
"The family shareholders need to know that I will request a public takeover offer if one of these two schemes is adopted," Adam President
Colette
Neuville told Reuters.
"Creating a holding company or signing a shareholder pact making the shares non-transferable would constitute taking control.
Hermes shares were down 7.7 percent at 153.20 euros by 1155 GMT but are still up 64 percent this year.
The shares have surrendered only part of a 16 percent gain made earlier this week when big volume in the stock sparked speculation of a big block trade ahead of the family meeting.
LVMH had declined to comment on the share price moves.
Hermes said last month it expected to post further double-digit percentage sales growth next year, though this would not match the record level expected for 2010.
By Pascale Denis and Blaise Robinson
© Thomson Reuters 2020 All rights reserved.