Hermes family shareholder open to partner LVMH
PARIS (Reuters) - Hermes (HRMS.PA) family shareholder Nicolas Puech is open to a partnership with luxury giant LVMH (LVMH.PA), which has built up a 20 percent stake in its smaller rival, as long as Hermes retains its freedom, he told a newspaper.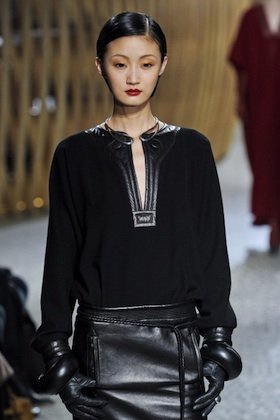 Hermès AW 2011/12 - Photo: Pixel Formula
However, he told Le Journal du Dimanche that a takeover of Hermes by LVMH was not currently an issue.
In contrast to his brother, Hermes Chairman Bertrand Puech, Nicolas Puech said he was not hostile to LVMH building up a stake, adding that anyone showing confidence in the company by investing in it deserved respect. Asked if he favoured a cooperation between LVMH and Hermes, he told the paper: "Only if it is advantageous to our house and it can retain its free will." Bertrand Puech and other family shareholders agreed earlier this year to defend Hermes against the threat of a potential LVMH takeover by allocating shares representing 50.2 percent of equity to create a controlling holding company.
"I told my family that locking up our shares in a holding company would have the major inconvenience of depriving the family shareholders of their individual power to control the management," Nicolas Puech said.
(Reporting by James Regan; Editing by Kevin Liffey)
© Thomson Reuters 2022 All rights reserved.