Hermes concerned about medium-term demand
By Astrid Wendlandt
PARIS (Reuters) - Hermes (HRMS.PA) aims to lift 2010 sales by at least 5 percent but is concerned possible tax hikes to cut European budget deficits could dampen medium-term luxury demand, the French group said on Thursday 25 March.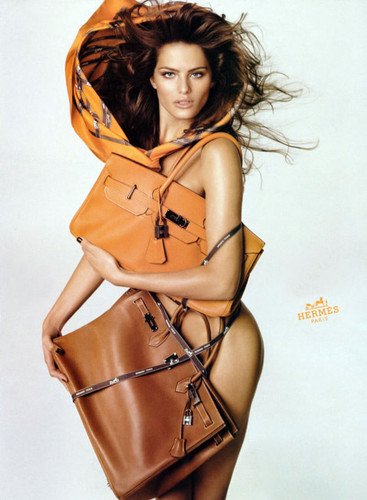 Hermes Birkin
"We have resisted well and weathered well the year 2009," Hermes Finance Director Mireille Maury told Reuters in an interview. "But we are more prudent about the medium term."
The maker of 5,000-euro crocodile handbags and classic silk scarves confirmed it was one of the only European luxury groups to enjoy any growth last year, both in profits and sales.
The world's No. 3 luxury goods group by market value behind LVMH (LVMH.PA) and Richemont (CFR.VX) saw a 4.1 percent revenue rise, while according to U.S. consultancy Bain & Co global luxury sales fell 8 percent.
Hermes's operating profit was up 3.1 percent, in line with forecasts.
By comparison LVMH, maker of Louis Vuitton luggage and Hennessy cognac, saw a 4 percent drop in comparable sales and an 8 percent fall in profit from recurring operations.
Hermes Chief Executive Patrick Thomas expects 2011 and 2012 to be more difficult than 2009-2010 from a macro-economic perspective, he told Le Monde in an interview.
He also said on BFM radio: "I think there is uncertainty (about the recovery) which is tied to the general state of the economy of the countries in which we operate where there could be fiscal measures ... that would weigh on our clients' morale."
Hermes shares fell as much as 3 percent and by 13:22 p.m. (British time), were down 2.66 percent at 102.35 euros having earlier this month hit a seven-month high of 105.95 euros.
"The outlook for the year is quite conservative and the bottom line is slightly weaker than expected," said Gregory Jette, analyst at brokers Jefferies & Co in Paris.
Net profit reached 288.8 million euros against 290.2 million in 2008, coming below market expectations of 298 million euros.
But Thomas said trends for Hermes since the beginning of the year were positive. "We expect sales growth of more than 5 percent I hope and an increase in profits of about the same order," Thomas told BFM.
The group's current year profit rise forecast concerned the operating level, Maury explained as she confirmed the group's target of a stable operating margin for this year.
WHOLESALE IMPROVEMENT
Maury said wholesale trading, which started to improve in the fourth quarter last year, continued to recover in the first quarter, particularly in products such as perfumes and watches, hit hard by the spending slump.
She said the group planned to open 12 boutiques this year, down from 14 in 2009. Thomas told Le Monde the group planned to slow the pace of store openings as it wished to favour exclusivity over volumes.
For some Hermes products, there are waiting lists of up to three years in regions such as Asia.
Hermes reported a rise in operating profit to 462.9 million euros (414 million pounds) for 2009 against 449.2 million the previous year. Its operating margin dropped to 24.2 percent from 25.5 percent.
It proposed to raise the dividend to 1.05 euros a share from 1.03 euros. At the end of the year, it had cash of 508 million euros, up 57 million euros from a year before.
While several luxury stocks including Burberry (BRBY.L) and Richemont (CFR.VX) have more than doubled in value over the past 12 months, Hermes shares have gained 32 percent, held back by their high rating compared with the sector.
Hermes shares are trading on a price to earnings ratio of more than 34 times on this year's forecasts while the European luxury sector average is trading on 15 to 18 times, according to Thomson Reuters data.
(Editing by Mike Nesbit and David Holmes)
© Thomson Reuters 2022 All rights reserved.