eBay wins regulator approval for Gmarket deal
SEOUL (Reuters) - U.S. online auctioneer eBay Inc won final approval from South Korea's antitrust watchdog for its planned acquisition of Gmarket Inc, subject to conditions such as a commission freeze for the next three years.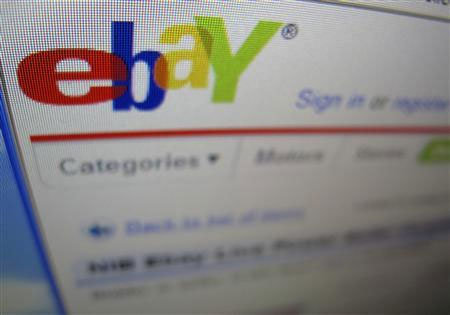 Photo: REUTERS/Mike Blake
The approval clears the way for eBay to emerge as a leading player in South Korea's online shopping market by taking control of its key competitor.
Last week, eBay offered to buy South Korean online retailer Gmarket for up to $1.2 billion, a move that sets up the company for growth in Asia. A majority of Gmarket shareholders, including South Korean retailer Interpark Corp and Yahoo Inc, have agreed to the cash tender offer.
South Korea's Fair Trade Commission said in a statement on Thursday that the impact of eBay's acquisition on the local online shopping market would be limited and could be digested over time.
Nasdaq-listed Gmarket is the biggest South Korean operator of customer-to-customer marketplaces and has more than 10 million registered users in the country. It has competed with eBay's South Korean unit, Internet Auction Co, and "11st," a unit of SK Telecom, the country's top mobile carrier.
When combined, Gmarket and the eBay unit will have a 87.5 percent share of the South Korean customer-to-customer market and 36.4 percent of the entire domestic online shopping market.
The FTC banned the companies from raising sales commissions for the next three years and asked them to limit increases in advertising and other fees to below the local inflation rate.
The regulator also ordered them to come up with measures to protect small-sized sellers in marketplaces that may suffer from higher fees and commissions without free competition.
(Reporting by Rhee So-eui; Editing by Jonathan Hopfner)
© Thomson Reuters 2023 All rights reserved.