Chopard eyes 2009 sales drop of 10 percent
By Katie Reid
PARIS (Reuters) - Independent watch and jewelry maker Chopard saw a slight pickup in demand in May and is hoping to end the year with sales down just a tenth.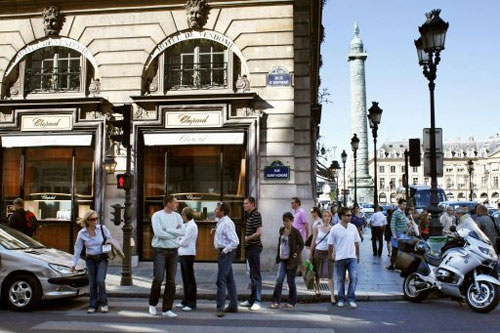 Chopard, place Vendôme in Paris on May 30 2009 - Photo : AFP
"If we end at minus 10 percent, we are well off. We already feel a little bit of a comeback," Chairman Karl Scheufele told the Reuters Global Luxury Summit in Paris by phone on Tuesday 9 June.
"Everything will recover" in the fourth quarter, he added.
Swiss watchmakers are bracing themselves for the worst decline in exports in at least two decades as customers worry about the economy. Swiss watch exports slumped 24 percent in the first four months of this year.
Scheufele said sales have dropped between 15 and 20 percent so far this year at Chopard as middle-class customers crimp their spending on luxury treats due to worries about job losses and shrinking investment portfolios.
But demand for the most expensive jewelry and timepieces is proving more resilient, he said.
"We can see there is still money around and sometimes people still spend this money," Scheufele said. Its watches can cost 120,000 euros ($166,500).
Chopard, which was founded in 1860 when Louis-Ulysse Chopard set up a high-precision watchmaking factory in the Jura region of Switzerland, competes with Richemont's (CFR.VX) Cartier brand and Italian group Bulgari (BULG.MI).
Scheufele took over Chopard in 1963 and oversaw its move into the ladies' watches market in the 1970s.
The group has cut its spending on advertising, sponsoring and communications to 8 percent of sales from between 10 and 12 percent of sales and has delayed the openings of a couple of boutiques.
($1=.7208 Euro)
© Thomson Reuters 2022 All rights reserved.