Burberry's new capsule collection: Winter Storms
Published
today
Oct 14, 2010
After its first capsule collection launched last April to celebrate London's rainy days, 'April Showers', Burberry, along the same lines, releases 'Winter Storms' this Autumn. It seems the seasonal collection theme is becoming a regularity with the luxury brand. It includes more than one hundred pieces for men, women and kids with ready-to-wear, bags, shoes, small leather goods, scarves. Prices vary between 150 Euros for a keychain and 4,500 Euros for a large bag in studded python. T-shirts at 225 Euros, woman's vinyl trench coat, 1795 Euros.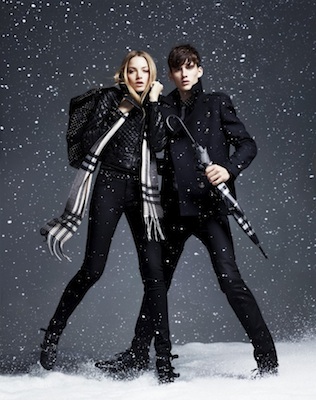 Winter Storms' launch campaign
The line is intended to be refreshingly new in store and on the shopping site online. The brand also brings us its outdoor wear for our protection in the harsh winter weather... The Winter Storms collection, besides online, is available in many of the label's outlets.
Watch the Winter Storms Ad Campaign
Original by Jean-Paul Leroy. Translated by Rosie Hart
Copyright © 2019 FashionNetwork.com All rights reserved.