Balenciaga makes over its futuristic flagship store
Balenciaga has given its boutique at the historic address Avenue George V a rejuvenation. Reflecting the label's former glory without falling into the mausoleum while giving a new visibility to its women's collections was the aim. Beijing store coming soon.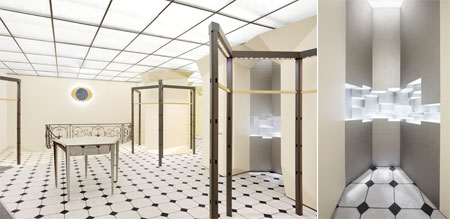 Inside Balenciaga's boutique on 10 avenue Montaigne, Paris
In line with recent shops openings around the world, including Rue de Varenne, Paris dedicated to menswear, the design and layout have been entrusted to filmmaker Dominique Gonzalez-Foerster, in collaboration with Nicolas Ghesquiere. Apart from historic character touches dedicated to enhancing brand image, the space tries to reignite the creative director's futuristic beats and graphic collections with its dramatic facelift that mixes black tiled flooring with white ceiling lights, wrought iron stairs and geometric furniture.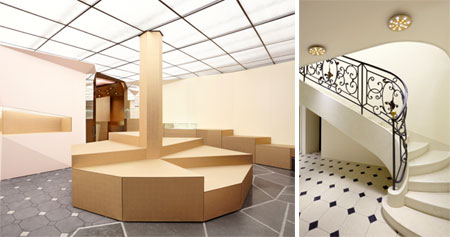 Inside Balenciaga's boutique at 10 avenue Montaigne, Paris
As in 1937, when Cristobal Balenciaga opened the doors of its couture house at 10 avenue George V, it was just a woman's world that could be found. A luxury universe that now stretches over an area larger than 180 m² over two floors. And while the ready-to-wear collections take the spotlight, accessories are not forgotten, between the shoes, sunglasses, bags, luggage, it is all cleverly staged.
Held in the PPR Group's portfolio, the brand experienced strong growth in Pacific Asia and Japan in 2009's fourth quarter. Determined to continue the expansion of its fleet of self-owned stores, it announced the forthcoming opening of an outlet in Beijing.
Original by Emilie-Alice Fabrizi. Translated by Rosie Hart
Copyright © 2022 FashionNetwork.com All rights reserved.