American Apparel shares plunge 14 percent after layoffs
(Reuters) - American Apparel Inc (APP.A), which has long campaigned for foreign workers' rights, said on Thursday 25 March the forced layoffs of about 1,500 workers in 2009's second half had hurt its manufacturing capabilities, sending its shares down 14 percent.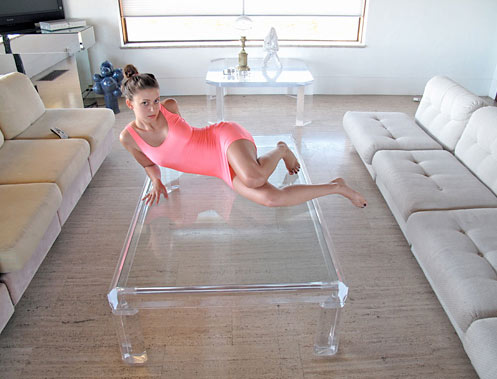 'Scoop Back Tank Dress' from American Apparel - Photo: www.americanapparel.net
The clothing retail chain fired the workers after the Immigration and Customs Enforcement agency said roughly a third of its workers in Los Angeles had supplied suspect or invalid records and were not authorized to work.
When news of the federal investigation broke, Chief Executive Dov Charney said the potential loss of a huge group of workers would not significantly impact results.
"The reduction in manufacturing efficiency was principally a result of the forced termination of over 1,500 experienced manufacturing employees in the third and fourth quarters of 2009 following the completion of the previously-disclosed I-9 inspection by U.S. Immigration and Customs Enforcement," the company said on Thursday 25 March.
The company deferred providing its 2010 outlook until early May as a result of uncertainty created by the layoffs.
American Apparel -- known for its brightly colored basics and racy marketing -- has long prided itself on its domestic manufacturing operation in Los Angeles, where workers are paid above minimum wage and enjoy benefits from subsidized health care to meals.
Charney has called for the legalization of foreign workers, and the company has used "Legalize LA" as a slogan on billboards and T-shirts.
Company executives say that American Apparel diligently complies with the law, but notes that immigration papers can easily be forged.
An estimated 11 million unauthorized immigrants currently live in the United States, with as many as 3 million in California alone. Many work illegally and analysts have long debated what the economic fallout would be if U.S. labor and immigration laws were more rigorously enforced.
American Apparel, which ended the fourth quarter with 281 stores, said net income for the quarter was $3 million, or 4 cents a share, compared with $3.9 million, or 5 cents a share, a year ago.
Analysts on average were expecting earnings of 4 cents a share on revenue of $144.1 million, according to Thomson Reuters I/B/E/S.
Revenue for the company rose 9 percent to $158.1 million.
American Apparel said it sees a fall of about 10 percent in comparable store sales in the first quarter of 2010.
Shares of the company on the American Stock Exchange slid to $3.32 in extended trade, after a Thursday 25 March close of $3.84.
(Additional reporting by Shobhana Chadha in Bangalore; Editing by Bernard Orr)
© Thomson Reuters 2022 All rights reserved.