Amazon, American Eagle up after Black Friday weekend
By Brad Dorfman
CHICAGO, Nov 30 (Reuters) - Shares of Best Buy Co Inc (BBY.N) , Amazon.com (AMZN.O) and American Eagle Outfitters Inc (AEO.N) rose on Monday (30 November) morning as investors bet they were gaining a larger share of spending over the holiday shopping season.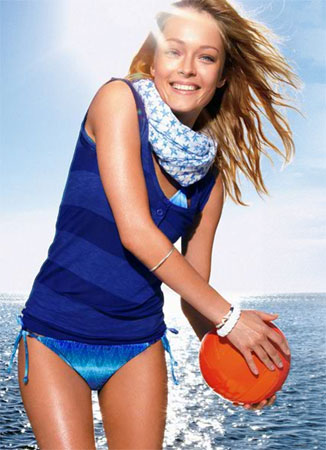 American Eagle Outfitters Women's Beachwear Spring-Summer 2009
Shares of
Wal-Mart
Stores Inc (WMT.N) were flat premarket, as were shares of department store operator
Macy's
(M.N), after early data from the U.S. Thanksgiving weekend showed that consumers on average spent less than a year ago.
"The numbers weren't bad, they weren't out-of-the-park good but then again nobody expected them to be good," said Marc Pado, U.S. market strategist at Cantor Fitzgerald & Co. in San Francisco.
"Ultimately, what we wanted to see was flat or better sales and that's what we got. You've got to remember the discounts were far fewer and less," he said.
Consumers said they will have spent nearly 8 percent less on average, or about $343 per person, over the weekend that includes Thanksgiving, Black Friday and ran through Sunday 29 November, according to the National Retail Federation.
Traffic to stores and websites rose to 195 million people from 172 million in 2008, and total spending rose 0.5 percent to an estimated $41.2 billion from a year ago.
Consumers also did more spending on the Internet. Analytics firm comScore said Sunday 29 November that U.S. online spending on Black Friday was the strongest it has ever been, up 11 percent over the prior year, with $595 million spent online.
Shares of Amazon were up a little less than 1 percent in premarket electronic trading on Monday 30 November at $132.85. EBay Inc(EBAY.O) shares were down 2 cents at $23.20.
American Eagle Outfitters (AEO.N) shares were up 2.5 percent at $15.41 as moderately priced teen apparel retailers were seen by some analysts as winners over the weekend.
Best Buy (BBY.N) shares were up 1 percent at $43.25. Analysts said electronics were among the hotter selling items over the weekend.
Consumer spending makes up roughly 70 percent of the U.S. economy and economists and analysts are watching the holiday shopping season to see if consumers that have been battered by a recession, high unemployment and a credit crunch were ready to let loose and spend a little more this year.
While discounting is always a big part of the holiday season, analysts said retailers have done a good job of keeping inventories in line, so they will not be forced into desperate price cuts like in 2008. That should help margins improve, at least from a year ago.
Investors will now look for a clearer picture of the month when retailers release November sales later this week. (Additional reporting by Chuck Mikolajczak) (Reporting by Brad Dorfman, editing by Dave Zimmerman) (([email protected]; +1 312 408 8133; Reuters Messaging: [email protected]; )) ((See blogs.reuters.com/shop- talk/ for Shop Talk -- Reuters' retail and consumer blog.))
© Thomson Reuters 2023 All rights reserved.