Times too tough to shop guilt-free? Do it on the sly
SYDNEY (Reuters Life!) - Shopping on the sly? Most people are during these tough economic times, with a survey showing that buyers either hide their purchases, or downplay their price, to appear thrifty.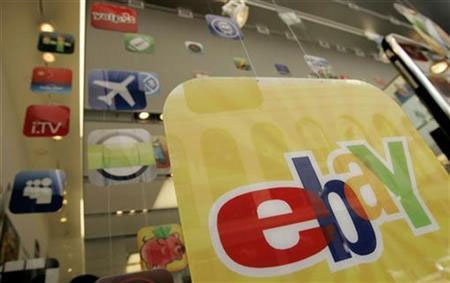 A placard advertising an eBay app for Apple is shown in San Francisco, California - Photo: REUTERS/Robert Galbraith
The poll, commissioned by shopping website
eBay
in Australia, revealed that as many as 8 in 10 people continue to treat themselves to purchases despite the recession, which they stash away from friends and family.
Just over half admitted they did not tell their loved ones the true price of what they bought, because they "wouldn't understand" the true value of the item.
"Reflecting the current mood of consumers during these tough times, the survey found one in six respondents felt it didn't seem right to be spending money during a financial crisis as people continue to lose jobs, try to save money or reduce debt," eBay spokesperson Sian Gipslis said in a statement.
The survey revealed that the number one item that Australians hide is clothing, with over a third confessing to smuggling items home or concealing their purchase in some way.
Other items hid by shoppers include electronics, accessories, books and magazines.
Guilt also appeared to be fuelling this "closet buying" trend, with a third of respondents saying they knew they should not be shopping during the economic downturn.
But the majority of people -- more than 70 percent -- said they just could not resist shopping, with nearly half secretly logging onto retail websites to make their purchasing more discreet and because they believed online offered better value.
More men than women also indulged in online closet buying, the survey showed.
"Catering to every need, whether it's everyday necessities or special occasion treats, online shopping sites such as eBay are finding that it's not just about the dollar sign but also about the range of items available," said Gipslis.
When confronted about their new purchase, some survey respondents simply confessed, but almost half said they would be vague about when they bought the item, and highlight what "good value" it was by knocking off between 20 and 50 percent off the actual price.
Almost one in three will claim they bought the item because they thought their loved one would really like it, but only 15 percent would lie outright.
The online survey involved 1,250 respondents, aged between 18 and 65 and living in Australia. It was conducted this month.
(Writing by Miral Fahmy, editing by Sugita Katyal)
© Thomson Reuters 2023 All rights reserved.