Time no longer the essence for luxury watchmakers
Mar 25 - Time is up for oversize and flashy luxury watches that actually tell you the hour.

The new status symbol for bankers and Russian oligarchs is a sober, featherlike timepiece made from carbon fiber, magnesium or aluminum, executives at Basel's annual watch fair said.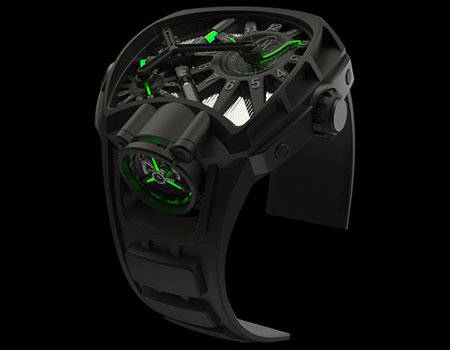 Hublot's "Key of Time" watch
Real luxury is now the ability to stop time. This week Luc Perramond, chief executive of
Hermes
's watch division, presented the "temps suspendu" (suspended time) model, starting at 18,000 Swiss francs ($19,700), which stops time at the press of a button and brings it back again.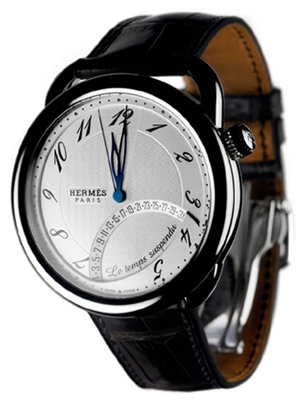 Hermès' Le Temps Suspendu watch
For 240,000 Swiss francs you can pick up an
Hublot
watch whose time can be slowed or sped up and another which is all black, making it difficult to tell the time at all.
That luxury can set you back upwards of 15,000 Swiss francs.
"The value of a watch is not to give you time," Hublot Chief Executive
Jean-Claude Biver
told Reuters.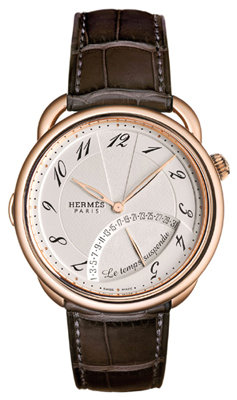 Another model of Le Temps Suspendu
"Any five dollar watch can do that. What we are offering is the ability for example to stop time or make it disappear... Time is a prison and people want to get out of it sometimes."
Those embracing the trend for new materials include Hublot, one of the fastest-growing brands, and its younger rival
Richard Mille
, whose barrel-shaped watches, starting at 60,000 euros ($85,000), are regarded as some of the most expensive.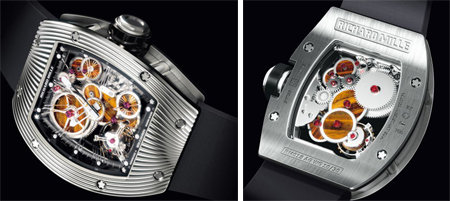 Richard Mille's watch
"The trend now is light and new materials," Biver said, adding that Hublot last week bought a carbon fiber plant to secure supplies and is investing in new methods of dyeing metals and various materials.
In the world of watch fashion, experts say black dominates, followed by grey and matt colors. And minimalism is the style motto, in contrast to the pre-crisis days of 2007 and 2008 when big, multi-functional sporty watches were in vogue.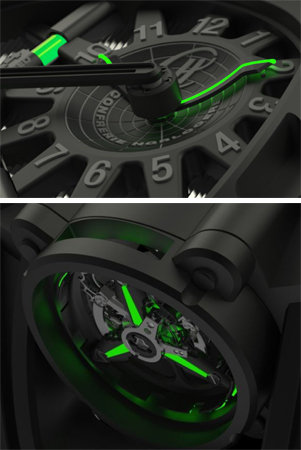 Front and back of Hublot's watch
This watch trend matches the somber mood of
Paris Fashion Week
earlier this month, expressed at
Chanel
with its moonwalk collection and at
Balenciaga
and
Celine
with much use of dark fabrics and research into the use of new materials.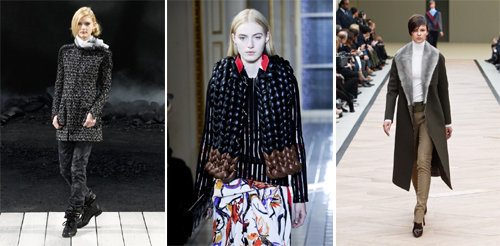 Chanel (left), Balenciaga (middle) and Celine (right) at Paris Fashion Week 2011
But the watch industry is also being pushed into redeveloping classic models, encouraged by Chinese demand.
As a result, many brands are re-fashioning old models such as Tag Heuer which last year launched a new version of its classic Carrera model, endorsed by actor Steve McQueen, which starts at 2,000 euros.
"Chinese prefer classic watches, watches with a heritage," Guy Semon, Tag Heuer's vice president for sciences and engineering, told Reuters in an interview.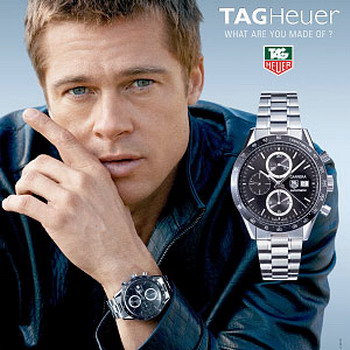 Brad Pitt on campaign for Tag Heuer's Carrera watch
"And as they have become major customers, this has helped drive the brand to return to some of its historical models."
Outside China, experts say consumers who suffered the 2009 crisis are also looking to buy classic models so they can pass them on to their children.
Such trends have benefitted brands such as
Patek Philippe
,
Rolex
,
Vacheron Constantin
and Hermes.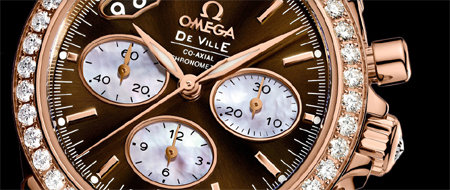 Omega is a best-seller in China
"Hermes is widely perceived as a refuge brand which explains why we have been so resilient during the crisis," Luc Perramond, Chief Executive of Hermes's watch division, told Reuters.
"Luxury customers today no longer want ostentatious items. They want something light, discreet, comfortable and elegant."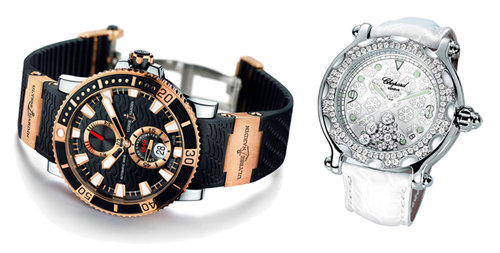 Ulysse Nardin (left) and Chopard (right)
If Hublot is popular in Europe and the United States,
Omega
is a best-seller in China and
Ulysse Nardin
and
Chopard
are the favorite brands among the Russians, industry executives say.
By Astrid Wendlandt and Silke Koltrowitz
(Additional reporting by Nathalie Olof-Ors, Editing by Alexander Smith)
© Thomson Reuters 2023 All rights reserved.