Receivership for Selective Beauty in France
After a few years of wavering, but always emerging with satisfactory results, Selective Beauty needs a really thorough spring clean to come out on top, and to show real strength both "financially and organizationally". The company announced that it had gone into receivership with the commercial tribunal of Bobigny.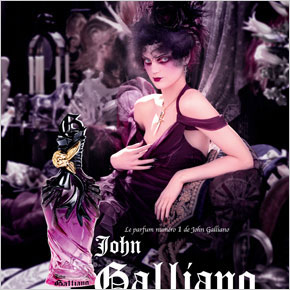 Launch campaign for perfume by John Galliano (Selective Beauty)
"A decision which does not concern the foreign subsidiaries of Selective Beauty and which will allow us to reach an agreement with our creditors," declared the company's communications officer.
Two administrators have been named, charged with accompanying the board of directors in searching for a solution, and keeping Selective Beauty in the middle of a continuation plan. The objective being of course "to assure the sustainability of the group," which was founded in 2000 in Paris by Corrado Brondi and Christophe Cervasel, two former directors of the global luxury brand
LVMH
.
Last May we announced the buyout of a 72% stake by Perfume Holding II (subsidiary of Investindustrial). Corrado Brondi, through his company CB Holding, holds 28%.
As for the actual accounts of the brands, "they stay confidential" stated an internal source. One thing is sure: Selective Beauty started out purely as a distributor of perfume and cosmetics. They have to date dealt with
Agent Provocateur
,
Bulgari
, burberry,
Chopard
, Ferragamo,
Lanvin
and Lolita Lempicka. Since 2005 though the company has signed contracts for long-term licensing to include product development, marketing and distribution for United Colors of
Benetton
,
Iceberg
,
Max Mara
,
Trussardi
and
John Galliano
.
By Jonathan Fulwell (Source: Julie Mangaud)
Copyright © 2023 FashionNetwork.com All rights reserved.