Pet fashion all the rage as owners bark, What recession?
NEW YORK, Aug 25, 2008 (AFP) - It's a dog's life during hard economic times. But Chihuahuas in a tutu? Pugs in designer tank-tops? Dachshunds draped in Swarovski bling?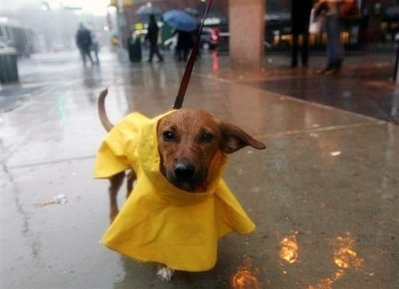 Photo : Chris Mcgrath/AFP
That was the scene at the third annual Pet Fashion Week in Manhattan this past weekend, where despite a looming US recession, the world's dog-loving fashionistas gathered to share ideas, market their products, strut a canine catwalk and raise money for charity.
At a time when department stores are suffering from shrinking sales of clothing, shoes and accessories such as handbags, those in the pet fashion industry are thriving, thanks to dog-loving elites and the buying impulses of millions of other pet owners.
"I've always loved dressing up dolls and Barbies, and I wanted to take it into something else that I loved, and I love pets," pet-fashion designer Kameron Westcott from Dallas, Texas told AFP as her five-year-old Yorkshire terrier, Louis, peeked out of a canine carry bag designed by luxury fashion giant Louis Vuitton.
"Dogs need to be cute when they go to parties as well," quipped Westcott, who runs an Internet web site hawking a range of Brazilian-made clothes and accessories for dogs.
"They want to feel elite and posh, just like we are."
These dogs are having their day. All five floors of an exhibition center in southern Manhattan were crammed with dozens of stands marketing a range of pet beauty products and clothes.
Palacial doghouses on offer stood covered in lush drapes and filled with cushions bearing Swarovski jewels (price: 9,000 to 15,000 dollars) and other jewelry, while other vendors were peddling the "must-haves" of the moment: all things environmentally friendly and recyclable.
Such green items ranged from cardigans knitted out of Andean alpaca wool to a line of bamboo-only products by "Pet Duti," a brand which offers items aimed at easing the unfashionable modern-day necessity of cleaning up after one's dog outside.
Pet Fashion Week proved to be a runaway success, although one woman was disappointed. "You can't stop me, I want my money back," shrieked a lady on the verge of a meltdown after having been barred from one of the events Saturday morning for having the wrong ticket.
"No, you paid for the evening charity show. This one is for buyers, designers and the media," a hostess responded, unruffled.
The show's stars came out amid an elaborate and ominous backdrop of oil drums and abandoned jerricans meant to evoke the "scary situation" reflected by today's energy crisis, according to organizers.
Bulldogs paraded out wearing tight wool knits, and elegant Afghans sauntered by clad in "Hermes", all led by human fashion models as sumptuously outfitted as their four-legged friends.
Chihuahuas skittered about in tutus, and a trio of tank-top-wearing pugs were pushed down the makeshift catwalk in a shopping cart.
Swedish designer Tania Fylking, seeking a new outlet for her flair for fashion, made the trip to New York at the suggestion of a friend.
"I flew from Stockholm and I do not regret, I hope to find an agent for my brand," said Fylking, who specializes in producing exotic leather goods favored by several Hollywood celebrities for their pets.
According to the American Pet Products Manufacturers Association (APPMA), 63 percent of American homes -- some 71 million households -- have pets. They include 88 million cats, 75 million dogs, 142 million goldfish and 13 million reptiles.
Spending on pets rose in 2007 to 40 billion dollars, compared with 28.5 billion in 2001, including 17 billion spent on food, 11 billion on veterinary care, 10 billion dollars on medicines and 3.9 billion on pet toys, clothing and "dog-sitters."
On its website, the association says doctors claim that "pets help to lower blood pressure, to reduce stress, to prevent heart desease, to lower healthcare costs, to fight depression and loneliness."by Paola Messana
Copyright © 2023 AFP. All rights reserved. All information displayed in this section (dispatches, photographs, logos) are protected by intellectual property rights owned by Agence France-Presse. As a consequence you may not copy, reproduce, modify, transmit, publish, display or in any way commercially exploit any of the contents of this section without the prior written consent of Agence France-Presses.