Eco fashion, responsible consumption, macrobiotic diets, 100% cotton T-shirts ... they all form part of a cluster of trends that are driving our daily lives, towards a more conscientious world. We protect our environment in the same way we care for our bodies. This is a trend, growing in appeal and prevailing in countries like the U.S. and recently Europe.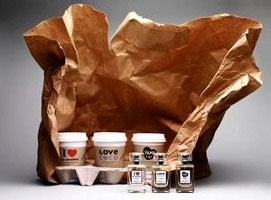 Giacobetti's trio perfume collection in paper cups
Isolée owns the line of French perfumes Honoré des Prés; a fragrance collection, with the organic label "BIO", which renders ecological product development. Winners of the 2010 prize for best design by Wallpaper with its first five fragrances, has now added range "I love NY". Its three fragrances will seize you with their urban and cosmopolitan packaging and three magical scents.
The three new perfumes, designed by France's
Olivia Giacobetti
, enclosed in paper cups, all evoke scents from the streets of New York. This is the creator's latest perfume and it is aimed at the most passionate and eco-conscious consumers.
The pure scents can be found in three different models:
- "Vamp à NY" is made with tuberose, rum and raisins.
- "I love les Carottes" mixes carrot blossom, sweet oranges, Caribbean vanilla, patchouli and iris; a pleasure to smell.
- "Love Coco" is a gourmand of coconut, vanilla and coriander leaves.
Copyright © 2022 Europa Press. Está expresamente prohibida la redistribución y la redifusión de todo o parte de los contenidos de esta web sin su previo y expreso consentimiento.