On the road with Tehran's kings of bling
TEHRAN, June 6, 2008 (AFP) - Sporting a Rolex watch and Gucci sunglasses, Amir Ashkan, 28, is proudly cruising down one of Tehran's main avenues in a sparkling new BMW as if it was the most normal thing in the world.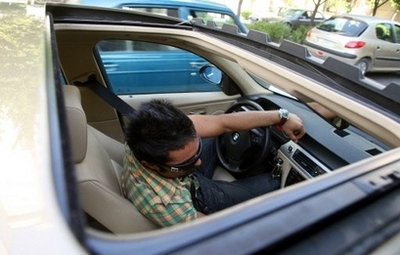 Photo : Atta Kenare/AFP
Hardly a scene many people would associate with a Friday afternoon in the Islamic Republic of Iran.
But such unashamed displays of wealth from the young and ultra-privileged are becoming an ever more frequent sight in the Iranian capital amid a growing gap between the rich and the poor.
"You need to enjoy life," said Ashkan, a civil engineer.
"Everywhere in the world, having a great car is normal. In the United States and Europe, and even in Russia, some people even have private jets and yachts. But here people are making a fuss just about cars."
His BMW costs a colossal 950 million rials (100,000 dollars) owing to import duties. The average Iranian, earning no more than 500 dollars a month, would need the entire salaries of two decades of work to buy such a vehicle.
"Of course, I don't take this car to work. That wouldn't look good," he admitted.
Flash imported foreign marques, including BMW, Mercedes, Nissan and Toyota, are a surprisingly frequent sight in a country whose officials are repeatedly warning of the perils of Western consumerism.
The import of luxury foreign cars has been allowed for several years, but at a price. Iranians must pay a 100 percent tax on such imports, meaning they pay double what an identical car would cost in Dubai.
This has not deterred the super-rich in the Iranian capital who have most likely made their money in property or the imports business. Last year, 37,000 foreign cars were imported into the country.
Only luxury cars are permitted to be imported, for fear of harming Iran's substantial domestic mid-range car production industry, which includes major joint ventures with French giants Peugeot and Renault.
"Our prices range between 400 million rials (50,000 dollars) and three billion rials (320,000 dollars). The most expensive model we have is the Mercedes Benz S350," said a car showroom owner, who declined to give his name.
-- 'It's unjust, a 20-year-old drives a 200,000-dollar car" --
Even the occasional Ferrari or Lamborghini, imported with a special licence to the tune of a cool half a million dollars, can be seen gliding down Iranian streets.
The presence of these vehicles underlines the growing gulf between Iran's rich and the urban underclass who face a daily battle to make ends meet.
The welfare minister has estimated that over 9 million people out of a population of over 70 million are living below the poverty line.
Inflation rates of also 25 percent that have caused dramatic spikes in the prices of the most basic goods and services have also eaten into the already modest incomes of middle income families.
President Mahmoud Ahmadinejad was elected in 2005 to realise his slogan of bringing economic "justice" to Iran to make the poor feel the benefits of the country's great oil wealth.
But social inequalities are becoming wider, not narrower. Not everyone is impressed by the appearance of smart new cars on Tehran's streets.
"It's completely unjust. A 20-year-old kid who has barely earned 5,000 dollars all his life drives a car worth 200,000 dollars," complained bank employee Asghar.
Much of the wealth in Tehran is generated not by salaries but by property ownership that may go back to well before the 1979 Islamic revolution, helped by the current soaring prices and rents.
"I've dreamed of having such cars. But even if I worked all my life, I would not be able to buy a single one," said a man who gave his name as Mohammad.
Mohammad works as a guard at a building site, earning around 300 dollars a month while his boss drives around in a Mercedes worth around 300,000 dollars, a sum that would take him more than eight decades to earn.
"If I could just buy a smaller car after five or 10 years of work, that would be more fair," he said. "But I can't even do that."
In the past, and still today amongst more conservative elements, it was considered improper to make a show of wealth. But this has changed drastically with a new class of nouveau riche who have benefited from soaring property prices and rising imports.
"When a 200 square-metre (2,150 square feet) apartment costs a million dollars in northern Tehran, it's normal to pay 100,000 dollars to buy a car," said Abbas, a young salesman.by Siavosh Ghazi
Copyright © 2023 AFP. All rights reserved. All information displayed in this section (dispatches, photographs, logos) are protected by intellectual property rights owned by Agence France-Presse. As a consequence you may not copy, reproduce, modify, transmit, publish, display or in any way commercially exploit any of the contents of this section without the prior written consent of Agence France-Presses.