M&A deals in watches seen less likely
(Reuters) - Mergers and acquisitions in the Swiss watch industry are likely to become rare events as rising demand for timepieces strengthens the resistance of potential takeover targets, luxury executives and experts said this week.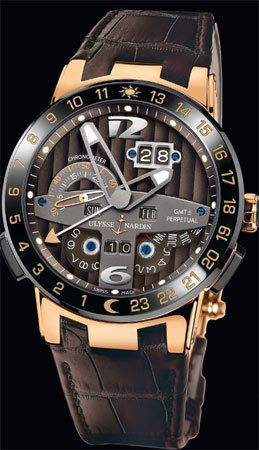 El Toro by Ulysse Nardin - Photo: www.ulysse-nardin.ch
Several independent luxury watch brands including Ulysse Nardin have received approaches recently from luxury groups, Asian buyers and hedge funds eager to profit from the recovery.
But they stand firm, making clear they are not for sale.
Sales, even for small watchmakers, have soared since January, partly thanks to retailers rebuilding their stocks and demand picking up in the United States and Asia.
"The revenue rebound is taking pressure away from smaller players and making it more difficult for takeover attempts to succeed," said Bernstein luxury analyst Luca Solca.
"The scarcity of independent watch brands of a meaningful size means that multiples in M&A deals will be high."
Kepler Capital Markets analyst Jon Cox noted that watch makers' stock prices had almost tripled in over a year.
"In terms of multiples
Swatch Group
and
Richemont
have gone from trading at 10 times price-to-earnings one year forward on a consensus basis to almost 20 times," he said.
Ulysse Nardin Chief executive Rolf Schnyder, who acquired the brand in 1983, told the Reuters Global Luxury Summit this week he had been approached by one of the big three, Swatch Group, Richemont or
LVMH
.
"Yes, I don't say which (of the three), but it was at the Basel watch fair (in March) this year," he said.
Vontobel analyst Rene Weber said: "I'm sure it must have been LVMH although Swatch Group or Richemont would also be interested. Ulysse Nardin is a pearl in the industry with a lot of know-how."
Schnyder added some Asians would love to own a Swiss company but he was adamant the company wanted to remain independent and had a successor in mind.
Other attractive targets could include
Chopard
and
Richard Mille
.
Audemars Piguet
, a brand that has remained in the hands of the founding families since 1875, is keen to stay on its own, Chief Executive Philippe Merk told the summit this week.
"We are a family-owned business. This is probably one of the main reasons why we are successful," he added.
The watch industry has been emerging from its worst crisis in decades with Swiss watch exports rising 16.4 percent in the four months to April after a 22.3 percent drop in 2009.
Watchmakers
Hublot
,
Patek Philippe
and Ulysse Nardin have seen double-digit growth since the beginning of the year, their chief executives told the Reuters Global Luxury Summit in Paris this week.
Jean-Claude Biver
, chief executive of LVMH's watch brand Hublot - acquired in 2008 - said he did not see much potential for consolidation in the Swiss watch industry for now.
"The good and strong brands are not suffering enough so I don't see a lot of possibilities. All the good names are under a roof," he said.
The watch industry is one of the most consolidated luxury goods sectors with the four biggest groups, Swatch Group, Richemont,
Rolex
and Patek Philippe, owning 37 percent of the market, said analyst Solca.
Size is important for Swiss watch makers as it gives them economies of scale and funds for investments in production and distribution.
In their watches and jewelry businesses, Swatch Group
made an operating margin of 19.2 percent in 2009 and Richemont
of 24.1 percent in its fiscal year 2009/10.
Operating profitability at LVMH's much smaller Watches & Jewelry unit stood at 8.2 percent in 2009.
"All the main players have plenty of cash or the ability to raise a lot: Swatch Group and Richemont could do $5 billion deals easily although both like to run conservative balance sheets," said Kepler's Cox.
Recurring rumors about a possible Swatch Group bid for
Bulgari
have been denied by both parties this spring.
But "there are ongoing rumours about a takeover of
Breitling
or Maurice Lacroix or Franck Muller," said Jon Cox.
Jean-Marc Jacot, chief executive of small very high-end watchmaker Parmigiani Fleurier, puts it in a nutshell: "There is nothing for sale."
Parmigiani Fleurier is controlled by the Sandoz family, one of Europe's wealthiest and co-founders of pharmaceutical group Novartis.
"If the Sandoz family ever wanted to sell the company, I would buy it," said Jacot. But he added: "They will not sell."
(Editing by Astrid Wendlandt and Sitaraman Shankar)
© Thomson Reuters 2023 All rights reserved.