India gold buying abates; rupee aids sentiment
MUMBAI, Feb 2 (Reuters) - India's gold buying abated on Tuesday (2 February) afternoon as the yellow metal traded above the keenly-watched $1,100 an ounce level, but a stronger rupee aided sentiment, dealers said.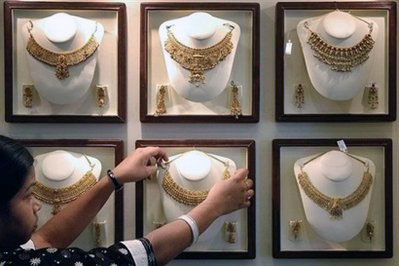 Photo : Noah Seelam/AFP
"Demand is lagging today, there was buying until yesterday, we must have done 400-500 kgs last week," said a dealer with a state-run bank in Mumbai.
International spot gold XAU= was trading at $1,103.20/1,103.95 an ounce as against 1,105.30/1,106.30 in the previous session.
"People are waiting for a dip to $1,070/1,089 an ounce," said another dealer with a private bank.
A stronger rupee makes the dollar-quoted gold cheaper for domestic traders.
The Indian rupee trimmed some of its early gains after the dollar strengthened slightly following the Australian central bank's decision to leave interest rates unchanged. [INR/]
India, historically the largest consumer of the yellow metal, imported 35-40 tonnes of gold during January 1-27, up from 9.8 tonnes in the whole of the same month last year, the head of a trade body and bank dealers said
© Thomson Reuters 2022 All rights reserved.