Hungarians' love affair with their jeans cooling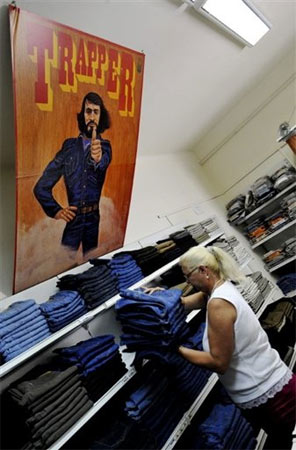 Photo: AFP
BUDAPEST — In communist times, Hungarians had a very special relationship with their jeans, with denim symbolising the free world and the West.
The love affair was encapsulated in a pop song that topped the charts in 1990, shortly after the collapse of communism, entitled "My Jeans Are My Everything".
Thirty years later, however, the honeymoon is over.
The Iron Curtain has been long relegated to the scrap heap of history, Western retail chains dominate Budapest's main shopping areas and jeans are simply another commodity widely available to everyone at affordable prices.
And as post-communist eastern Europe currently feels the brunt of the worldwide economic downturn, the announcement that US jeans giant Levi's is closing down its Hungarian plant is another patch of bad news.
"Jeans were all the rage. They epitomised everything that was the West," said Gjon Delhusa, the singer of the jeans song, who, even at 56, is still clad head-to-toe in denim.
"A pair of jeans was a treasure that people would hold on to for ages, cherishing them, repairing them and even widening them as their wearers gained weight," said the Albanian-born singer who became a pop star in 1971.
But Delhusa -- who would receive parcels of denim trousers and jackets from relatives in Italy and Germany -- said he would not be shedding any tears over the news that Levi's had shut its factory in Kiskunhalas, a small town 150 kilometres (93 miles) south of Budapest, after 21 years.
"There are hundreds of different brands of jeans available nowadays," he said.
Back in the 1970s though, every Hungarian teenager desperately coveted a pair of jeans, which had to be smuggled in from the West, hidden away among other goods, and sold under-the-counter at Budapest's legendary second-hand market of Ecseri at astronomic prices.
A single pair of jeans could cost as much as 1,500 forint in the mid-80s, the same price as a bicycle, at a time when a monthly salary of 4,500 forint was considered well-off.
Delhusa said he had been wearing denim right from his teens thanks to those parcels from his relatives abroad.
The communist regime decided to go on the offensive in 1978 and launch Hungary's own brand of jeans: Trapper.
In an unusual marketing move for a then-communist country, the Trapper name was chosen in a poll of magazine readers and radio listeners, explained Sandor Nadasi, who runs the only surviving Trapper store in Budapest.
The jeans were only available in two different cuts, boot and straight, and by today's standards, the waist was unfashionably high.
But with its emblematic logo of a cowboy leading a horse, it clearly aimed to bring the Wild West to Hungary and was an immediate success, selling more than one million pairs in a single year between 1980 and 1981.
The jeans were manufactured by state-owned company Budaflax and the main store occupied a prime position on Budapest's main avenue Andrassy.
Trapper jeans were also extremely popular in other communist bloc countries, such as Poland. And Soviet athletes competing in Hungary used to cart hundreds of pairs back home, Nadasi said.
The indigo dye bled and the denim tore easily "but people never minded," he said.
Nevertheless, when Budaflax secured a licence to make the US brands Lee and
Wrangler
in 1981, Trapper's star immediately began to wane.
The brand eventually went bust and it was only in 1995, when Nadasi acquired the rights, that the jeans, now made from imported denim, began to experience something of a renaissance.
"Nowadays, with the economic crisis, our sole aim is to keep the brand alive," he said.
The current manufacturing facilities are just a fraction of the size compared with the jeans' communist-era heyday.
But with Levi's now moving out of Hungary, it was a bit like David's victory over Goliath.
The Trapper brand has managed to outlive its iconic US rival, Nadasi noted, not without a touch of pride.
By Eszter Balazs
Copyright © 2023 AFP. All rights reserved. All information displayed in this section (dispatches, photographs, logos) are protected by intellectual property rights owned by Agence France-Presse. As a consequence you may not copy, reproduce, modify, transmit, publish, display or in any way commercially exploit any of the contents of this section without the prior written consent of Agence France-Presses.