Greener production for Replay
Diving into the ecological and organic market in 2007 with its line of "Organic Blue Jeans", 100% organic, Replay has now taken another step directly attacking wastage in its production. The jeans group announced the introduction of a "revolutionary" procedure which could save up to 3,000 litres of water per pair of jeans. The result is called "Just Add Water".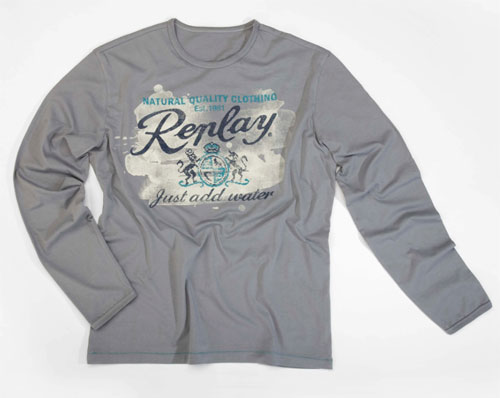 Jumper from the "Just Add Water" range from Replay
In 2006 the Department for the Environment and Energy Control (ADEME in France) conducted a study which laid-out the eco-profile of jeans and stressed, amongst other things, the enormous quantity of water required to produce a single pair of trousers. It is on this point that the Italian group have chosen to intervene. Replay have discovered an alternative dye, rather than the indigo which is normally used, which could considerably reduce the amount of water used. Twelve tanks of water are needed for the normal production of jeans, some 5,000 litres of water, whereas this new process requires only four. Furthermore, the used water is neither polluted nor tinted. Finally, just a few minutes later, Replay guarantees that the colours will last.
The fruit of this research is the launch of a complete new line, labeled "Just Add Water" and made up of a line of tops and series of jeans. Designs on the long-sleeved and short-sleeved t-shirts, jumpers and unisex jackets as well as their colours draw on this water theme, further referencing the name "Just Add Water". As for jeans, different cuts for men and women will be available in two special washes: uniform dark blue or a more worn appearance. The entire range will be in stores this autumn.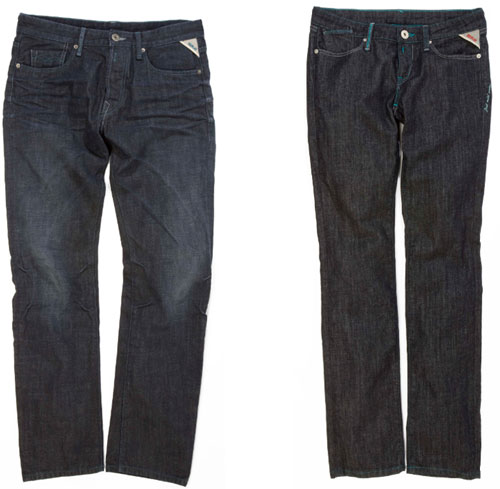 Just Add Water jeans from Replay
In tackling its production Replay has made its mark on the ethical jeans market; a market already padded out by jeans designers such as Rica Lewis, one of the first to use the green patch label, and Levi's, Ober or off-the-peg brands that have fallen in line such as Machja, Nu and
Ekyog
.
By Jonathan Fulwell (Source: Emilie-Alice Fabrizi)
Copyright © 2022 FashionNetwork.com All rights reserved.