Faster fibers and stronger springs lift '08 Games
By Catherine Bremer
BEIJING (Reuters) - With as many scientists behind them as coaches, athletes have used everything from radio thermometer pills to space-age fabrics designed to land robots on Mars to reach new heights at the Beijing Games.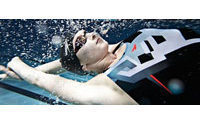 Speedo campaign
<
Michael Phelps used
Speedo
's drag-reducing LZR bodysuit to win eight golds in swimming, while Kenenisa Bekele wore feather-light shoes with a cable mesh inspired by suspension bridges to become the first man since 1980 to clinch gold in both the 5,000 and 10,000 meter races.
Archers have lighter arrows, canoeists slice through the water with narrower hulls, cyclists have drag-busting skinsuits with pressure points to speed the flow of oxygen to muscles. Even handball teams used new software to spy on rivals' tactics.
Other gadgets that nearly made it to Beijing include bicycles with coolant in their handlebars and energizing "relaxation" shoes that give off a waft of peppermint with every step.
It is a world away from ancient Greece, where a good dousing of olive oil was as sophisticated as Olympic accoutrements got.
"Behind the Olympics there's a whole other race going on," said Matt Brearley, a sports scientist with the Australian team, which in training swallowed pill-sized radio thermometers designed for astronauts to see how their bodies dealt with heat.
"We'll always be seeking a better performance," said Brearley.
Beijing's Water Cube pool, built extra wide and deep to disperse water turbulence, was full of high-tech bodysuits like Speedo's LZR racer and one by Adidas.
Rowers trained with sensors on the tips of their oars.
Outdoor running shoes had embedded stainless steel springs for added bounce or rice husks meshed into their bottoms to absorb water and improve traction. Some used a lightweight cushioning material based on a foam used in space shuttle seats.
Performance-enhancing gear has advanced so fast that some critics say new sporting records should be adjusted to factor it in, just as economic data is tweaked to incorporate inflation.
WHISKER THIN
"You're seeing this in almost every sport, technology giving athletes a little bit of an edge," said Nike's Olympics creative director Sean McDowell, who reckons his shoes may have gained Bekele 1 mm per stride, making a meter for each kilometer run.
Made with NASA's Mars parachute fabric, Bekele's shoes are like a second skin with 68 whisker-thin but stronger-than-steel
embedded cables that grip the foot and stop it shifting inside.
A hole at the back reduces strain on the Achilles tendon, and at around 90 grams, the shoes are 20 percent lighter than the famous gold spikes worn by Michael Johnson in the 1996 Olympics.
Runners say it feels like they have spikes in their feet.
"For me the analogy is that the athlete is the engine and we're making the tires," said McDowell, who is still working on the peppermint leisure shoes. "Who wouldn't take three feet at the finish line if they could get it?"
Usain Bolt's golden-soled shoes won him three gold medals.
Others spent huge sums in vain, like Dutch cyclist Theo Bos whose sponsors spent $1 million designing his bike for Beijing, only to see him crash out of one race and fail to medal.
Superstition was the prop of choice for the Thai weightlifter who changed her name to Prapawadee Jaroenrattanatarakoon for luck and the Croatian water polo team that grew "lucky" moustaches.
The fashion for high-tech fabric and cutting drag did not stop a French shooter competing in jeans and a t-shirt and hip sprinters running laden with gold jewelry and big shades.
"If you're good, you're good," said U.S. water polo coach James Brunn, whose team's only prop is tough double-layered trunks that resist underwater grabbing. "People who are great are there because of talent and really hard work.
(Additional reporting by Crispian Balmer, Jane Barrett, Deborah Charles, Sophie Hardach and Mitch Philips; Editing by Jeremy Laurence)
© Thomson Reuters 2023 All rights reserved.