DreamWorks Animation CEO touts brave new 3-D world
By Carolyn Giardina
AMSTERDAM (Hollywood Reporter) - DreamWorks Animation CEO Jeffrey Katzenberg predicted on Sunday that all movies would be made in 3-D within "a reasonable period of time" and that 2-D films would be "a thing of the past."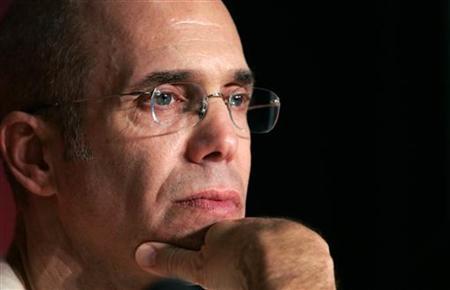 He issued his forecast during a keynote speech at the International Broadcasting Convention in Amsterdam. Appropriately for the occasion, the speech made broadcasting history.
In the first live transatlantic telecast in high-definition digital 3-D, Katzenberg spoke from the DreamWorks Animation campus in Glendale to an estimated 1,000 delegates -- all wearing 3-D glasses.
Katzenberg said innovative glasses will be among the first steps in the 3-D revolution, and that DreamWorks Animation has been collaborating with eyeglass firms Luxottica and Oakley.
"They're at a point where they are about to introduce a transition lens that where you go outside its your sunglasses, and when you go into the movie theater it transitions into 3-D glasses," he said. "People are going to own their own glasses. I think from a fashion standpoint and a coolness standpoint people will want to have their own glasses. I think that will be among the many changes that will come along."
He predicted that 3-D would roll out into "all facets of our lives and our culture," including the Internet, laptops, computers and handheld devices.
He also cited some early advertiser interest. "We have started working with some of the biggest advertisers in North America about trying to create some fun and unique 3-D events."
Still, Katzenberg was cautious when asked about converting 2-D titles to 3-D. "With the existing tools that are here today, we have not been happy with the quality," he said of some tests. "But the tools are getting better. I don't want to say it's not going to happen, I just don't know when."
During the program, he showed a 3-D test clip from the studio's recent summer smash "Kung Fu Panda" and previewed a scene from the firm's first digital 3-D title, "Monsters Versus Aliens," which is slated to open March 27.
Reuters/Hollywood Reporter
© Thomson Reuters 2022 All rights reserved.