Designer Ferre owner H1 profit slides 44 percent
MILAN, Aug 27 (Reuters) - The owner of Italian fashion designer Gianfranco Ferre turned in a 44 percent fall in first half operating profit on Wednesday, hit by adverse exchange rates and lower sales of the group's autumn/winter collections.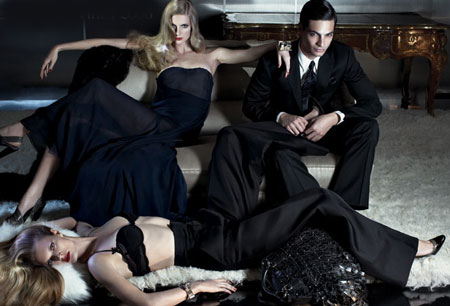 Gianfranco Ferre campaign
IT Holding
said in a statement on Wednesday earnings before interest and tax (EBIT) slid to 14.4 million euros ($21.18 million). At the net level, it flipped to a loss of 9.9 million euros from 1.8 million euros profit a year ago.
Revenues slipped 4.7 percent to 304.3 million euros.
"Following the orders trend for the spring/summer 2009 season, which is still under way, we remain confident that we can reach a sales level and profit margin (this year) in line with those achieved in 2007," IT Holding's chairman Tonino Perna said in the statement.
Designer Gianfranco Ferre, known for his tailoring skills and trademark white shirt, died just over a year ago after a brain haemorrhage.
Ferre's womenswear is now being designed by the creative directors of stablemate brand Malo, after Lars Nilsson departed as designer following just one outing in September 2007.
The menswear range is still without a replacement for Ferre and the June collection was designed by the in-house team.
IT Holding also owns Exte and has licences with Versace Sport and Galliano. (Reporting by Jo Winterbottom; Editing by Richard Hubbard)
© Thomson Reuters 2023 All rights reserved.