Beauty industry gets face time in Hollywood
By Shannon L. Bowen
LOS ANGELES (Hollywood Reporter) - Greta Garbo's beauty was legendary. It earned her the adoration of audiences and captivated even Adolf Hitler, who allegedly implored her to go to Germany to become the mother of his Aryan race.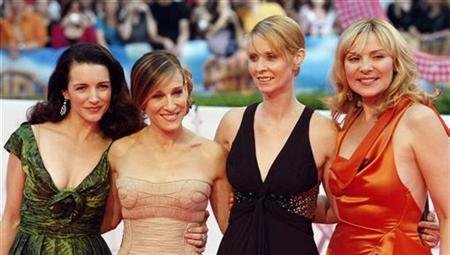 But the Swedish actress owed her luminous onscreen presence to more than her flawless skin and bone structure: Her secret weapon was Max Factor Silver Stone #2 makeup, which made her literally shimmer on film.
In much the same way that Garbo preferred to stay out of the spotlight, however, the working relationship between Hollywood and the beauty industry is subtler than one might expect.
"Many times (MAC Cosmetics) is there, and we may get a credit at the end of the film, or we may be in the literature, but we're there very discreetly," says John Demsey, group president of Estee Lauder Companies, parent company of MAC. "We're not there in a very sponsorship sort of way, because the relationship is very real and functional."
Indeed, one isn't likely to hear about it, but makeup artists relied heavily on MAC products for some of this summer's studio fare, including "Sex and the City," "The Love Guru" and "Get Smart."
ANGRY INCH LIPSTICK
But such collaborations do sometimes make headlines, with products developed for specific projects making it all the way to the retail market.
"Sometimes these things actually become promotional activities or tie-ins of the brand itself," Demsey says. "When (2001's 'Hedwig and the Angry Inch') was done, we hosted the opening party in New York City and actually created an Angry Inch lipstick for Hedwig."
Similarly, celebrity eyebrow guru Anastasia Soare, creator of Anastasia Beverly Hills, invented her famed brow kit for her entertainment clients who were shooting on location.
"I had clients, and they would go on the set for a movie, let's say, in Canada for three months, and they would be panicking, like, 'Who is going to do my eyebrows?"' Soare recalls. "So I (would cut) a stencil just with the shape of their eyebrows and then (add instructions for) the makeup artist on how to do it. Then I thought, Maybe some women are out there at home, maybe in Oklahoma, and I am not there -- maybe I should make a kit and sell it and they could do this at home."
High-definition technology has also resulted in the development of specialized cosmetics, like MAC's Airbrush line, which features micronized particles.
"Micronized milling is the finest, smoothest process possible, making foundation and powder appear to look like they are one with the skin," MAC makeup artistry director Gregory Arlt explains. "With HD, you need the skin to appear flawless and makeup-free, even when makeup is applied. Micronized foundations and powders achieve that perfectly."
MAC's not alone in the HD market. Competitors include Cargo's Blu-ray Collection, which is used on the set of FX's "Dirt" and Showtime's "Weeds."
But there are instances in which the beauty and entertainment industries' impact on each other -- and the viewing public -- are far more visible.
Fashion models once ruled as spokespeople for beauty companies, but actresses -- such as Cate Blanchett (for SK-11), Courteney Cox (for Kinerase) and Kate Hudson (for David Babaii for WildAid, of which she is also a co-founder) -- have largely taken their place.
"If you have beautiful skin as a celebrity, you can really affect what people buy as far as skin care," says Dr. Garth Fisher, the original plastic surgeon featured on ABC's "Extreme Makeover."
PLASTIC SURGERY IQ
The same is true of Fisher's field. Since "Makeover," the subject of plastic surgery has been a consistent draw, spawning such shows as FX's "Nip/Tuck" and E!'s "Dr. 90210." And who can forget Fox's 2004-05 series "The Swan," with its big reveal?
"I thought we really raised the plastic surgery IQ of America," says Fisher, a nose, face and breast specialist. "I thought we did it in a very professional way, a very sensitive way," he says, noting that after the show, the number of plastic surgery and cosmetic dental procedures in the U.S. increased significantly.
According to the American Society for Aesthetic Plastic Surgery, the number of cosmetic procedures, including everything from tummy tucks to Botox injections and laser hair removal, jumped from roughly 7 million in 2002 to about 11.5 million in 2005. Interestingly, the numbers have changed very little since 2005, with 11.7 million procedures being performed in 2007.
The temptation to lift and tighten can be overwhelming for Hollywood's famous faces, especially with the advances the beauty industry has seen over the last couple of decades, from injectables to laser resurfacing.
The goal is "moderation with everything," Soare says.
But moderation is difficult to achieve in the harsh light of constant media attention.
"(Celebrities) can't even go on a vacation and be in a bikini without getting photographed," notes celebrity hairstylist Sally Hershberger, who served as lead judge on Season 1 of Bravo's "Shear Genius." "I think that would be very hard."
"The media is everywhere, from magazines to blogs," says Lea Journo, creative director of the Beverly Wilshire's Lea Journo the Salon, who helps her famous clients achieve the look they need by consulting thoroughly about their projects.
"Let's not forget that celebrities belong to a dream," Journo says, "and we are here to shape it."
Reuters/Hollywood Reporter
© Thomson Reuters 2023 All rights reserved.