Anglo rejects Xstrata merger of equals plan
By Eric Onstad and Raji Menon

LONDON (Reuters) - Anglo American rejected rival mining group Xstrata's "merger of equals" proposal on Monday 22 June, knocking a no-premium marriage and a combination with what it regards as Xstrata's inferior mines.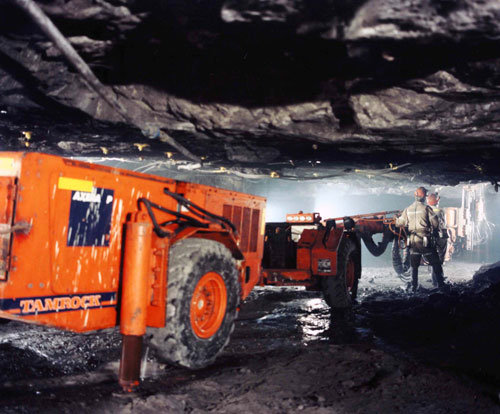 Bleskop shaft at Rustenburg platinum mine, South Africa (Photo: Vismedia - www.vismedia.co.uk)
The snub came a day after Xstrata unveiled its plan and after top Anglo shareholders pressed for a big premium to create a giant to compete in a consolidating mining sector.
"We are disappointed by Anglo American's rapid rejection of our proposal for an all-share merger of equals," a spokesman for Xstrata said following the Anglo rejection.
"We are also surprised that the Anglo American board has not seen fit to engage with Xstrata to discuss our proposal in view of the substantial value for both companies' shareholders that would arise uniquely from a merger of the two companies," he said in a statement.
Anglo had said in a statement "a combination with Xstrata would profoundly impact the nature of the group's portfolio by significantly diluting Anglo American's unique exposure to the structurally attractive platinum, iron ore and diamond markets.
"Irrespective of this lack of strategic merit, the terms proposed by Xstrata were totally unacceptable."
That echoed what a source close to the situation told Reuters last week, that Anglo was likely to brush aside any fresh attempt at a tie-up by Anglo-Swiss Xstrata, which has long had Anglo in its sights.
Xstrata came up against another obstacle to its proposal on Monday 22 June when South Africa said it feared job losses at Anglo mines if a merger went ahead.
Xstrata, whose market value has risen tenfold since floating in 2002 through a string of takeovers, said on Sunday 21 June it asked Anglo for talks about a merger.
SHAREHOLDERS DEMAND PREMIUM
Top Anglo shareholders rejected Xstrata's call for "a merger of equals," betting that initial proposal was just an opening play.
"If they won't pay a premium, they are not going to get anywhere," said one top-20 investor in Anglo who declined to be named. The shareholder was also a top 10 Xstrata investor.
"Takeovers are typically at a premium of 30 percent plus. You would be looking for reasons why it should not be 30 percent -- in this case, I don't see any," he said.
Uncertainty about a possible marriage of the two groups dimmed a run-up in Anglo shares, which soared as much as 12 percent in early trade but pared gains to close 4.6 percent higher at 1,698 pence before Anglo issued its statement. Before Monday 22 June, Anglo shares in London had underperformed the British mining index by 20 percent this year.
Shares in Xstrata fell 6.7 percent to 635.1 pence, compared with a 3.2 percent fall in the British mining index.
South Africa, where Anglo has the bulk of its mines, said it was concerned about the impact on workers and anti-trust issues from the possible combination.
"At face value it raises concerns about competition issues in the industry and a whole host of other issues, as well as the impact on jobs," said Jeremy Michaels, chief communications director at the mines ministry, adding: "Jobs would be the significant concern."
The ministry would seek information from Anglo chief executive Cynthia Carroll at a previously scheduled meeting on Thursday 18 June, he said.
Bringing the two groups together would create a group worth $68 billion based on Friday (19 June)'s closing share prices, versus
BHP
Billiton which is valued at $144 billion and Rio Tinto at $74 billion.
A combination of the two firms would create the world's biggest producer of zinc, platinum, coal for power stations and ferrochrome and No. 2 in coal for steelmaking and copper.
Steelmakers would likely oppose the merger, due to its expanded role in coal, analysts said.
The approach may unleash a new round of attempted mergers after Brazil's Vale failed last year in an attempt to buy Xstrata, said analyst Nick Hatch at ING.
"We place a 30 percent probability that an Xstrata/Anglo American merger takes place. Either way, both companies are now in play and we expect Vale to look hard at both companies, and in particular Xstrata," he said.
(Additional reporting by Victoria Howley in London; James Macharia in Johannesburg; Sonali Paul and James Regan in Australia; Editing by Dan Lalor)
© Thomson Reuters 2022 All rights reserved.