African designers eye growth at debut fashion week
By Sandiso Ngubane
JOHANNESBURG (Reuters Life!) - Traditional prints vamped up with stiletto heels and shoulder pads define the inaugural pan-African fashion week where designers from 20 countries are eyeing growth despite the global slowdown.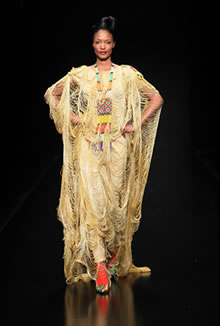 Arise Africa Fashion Week
The recession has dulled demand for haute couture from Paris to Tokyo, but African economies are faring better than many in the west and designers hope the energy of a young fashion industry and this week's new platform will help lure buyers.
Adama Kai from Sierra Leone described herself as a pioneer in her country, better known for a devastating civil war where drugged-up child soldiers hacked off villagers' limbs with machetes, than swathes of chiffon and the vintage mini-dress.
"I'm hoping to get exposure, to meet buyers, to link up with some magazines," said Kai, who was trained in New York and Paris.
"We're growing The excitement of childhood, the excitement of youth is what African fashion really has to offer the industry right now." Kai added.
Kai said the global slowdown had forced African designers, like their peers in the fashion capitals of Paris and Milan, to focus on practicality rather than whimsical design.
While South Africa already hosts several events for local designers, this is the first pan-African fashion week, and is aimed at highlighting the continent's creative energy by bringing 50 designers from across Africa under one roof.
"We needed a platform where we can have the focus of the world on what the design output of the continent is," said Precious Moloi-Motsepe, chief executive of Africa Fashion International, the company that hosts the event.
"We should in addition to admiring what comes from Western Europe begin to look inward and admire and celebrate ourselves."
Several designers said they liked to combine hints of African tradition and heritage with the best of European style.
South African designer Suzanne Heyns, who accessorized her Or d'Afrique collection with gold jewelry, explored Africa's French colonial past through European-inspired clothes that featured exaggerated hips and bottoms in a nod to the traditional curvier African female form.
"It is nothing that necessarily has to be traditional," Heyns said.
Eyola Adede, a Nigerian-born London-based designer, showed contemporary women's wear carried hints of African prints.
"I don't want to be pigeonholed," said Adede.
"Obviously Africa inspires me hugely because I'm from Africa, but at the same time the real influence for my brand is the Victorian era, which also took inspiration from Africa, South America and from all around the world."
Africa Fashion Week wraps up on Saturday 20 June with an awards ceremony where the winner will be given an opportunity to showcase at New York Fashion Week.
(Editing by Paul Casciato)
© Thomson Reuters 2022 All rights reserved.